The back support fits your back perfectly, and it is adjustable to support your waist and other parts at your back, to correct and maintain a healthy sitting posture. The integrated high back support is designed to fit your spinal structure, allows you sitting comfortably close to your desk to reduce the pressure on your waist while sitting straight, maintaining a healthy sitting posture and reducing fatigue.
Improve Your Sitting Posture
Modena ergonomic chair designed by implementing the experiences of developing of more than 100 office chairs, by innovating the seat, back, hand, and neck 3D adjustment support system to fully support your sitting posture. The simple design has transformed the scientific data into contemporary comfort and aesthetic.
Unlike traditional fabrics and foam materials, the mesh fabric is not only stretchy, but also breathable, which allows air, body heat, and moisture flow smoothly through the seat and back, drying out the dampness and making the skin comfortable.
The automatic spring resistance adjustment provides instant support and recline the backrest without manual controlling. It can smoothly switch from upright sitting to a reclined relaxed position.
Wide range of adjustable seat depth, lean against the back of the seat, to distribute the force evenly, reducing the pressure on the hips and knees.
Perfect fit back support
Tilt tension balance adjusting mechanism
Integrated back rest and armrest linkage
Elastic breathable mesh fabric
Detachable head rest
3D multi-direction adjustable armrest
Aluminium polished frame and base
Smooth and silent castors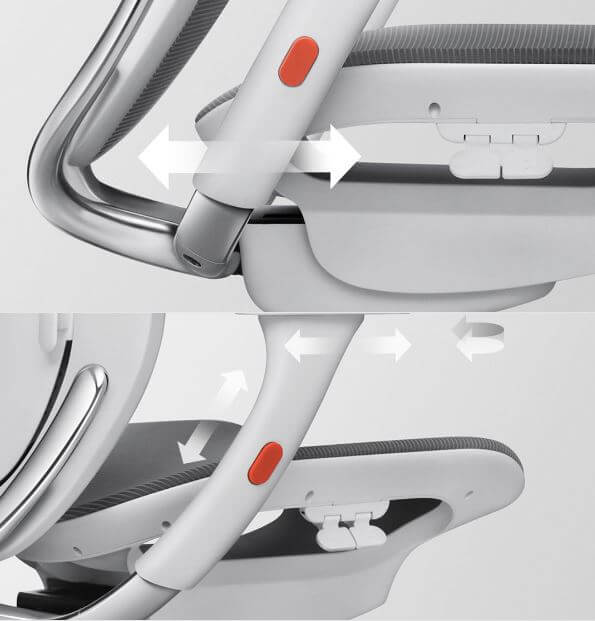 Width

68

Depth

73

Warranty

5 Year Limited Warranty

Delivery

Delivery Time: 2-4 Working Days

Chair Ergonomics

3 Tilt Locking Position
4D Adjustable Armrest
Adjustable Headrest
Adjustable Lumbar Support
Adjustable Seat
Syncro Tilt
Customers who bought this product also bought: